I've been doing a lot of writing lately, but not about knitting. Or even about Circles. I'm emotionally disheartened by my health and my hands have been hurting too much to knit for more than five or ten minutes at a time. So, what's been going on with Circles?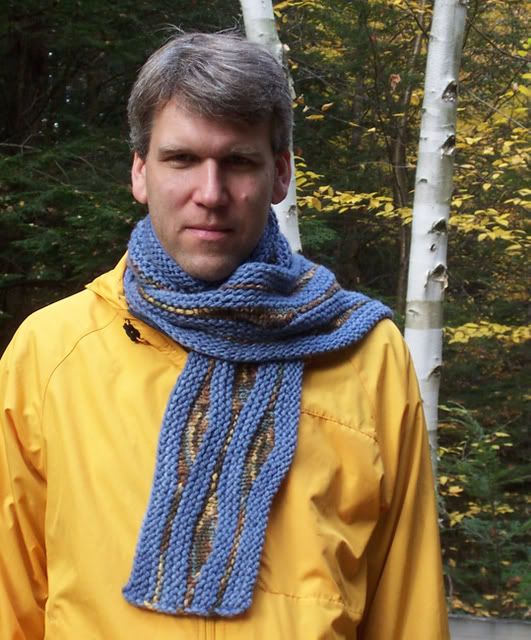 The Design Collaborative, for one thing. I'm testing a pattern by Rebecca, Rebecca is testing a pattern by Francesca, Lyssa is testing a pattern by Åsa.... Skirts, scarves, sweaters, hats. It feels like, at some point in the near future, we're just going to burst out with a gaggle of patterns and the fun will begin. For now, it's all behind the scenes to everyone but us. Eternal patience and faith is required on the one hand, but the process feels quite good.
We had a moment that quintessentially defined what the collaborative is about. Rebecca had designed an interesting scarf with short-row sections to highlight a hand-painted yarn. (That's her husband sporting the proto-type.) She wrote out the instructions for me to test knit, When I did, the numbers just didn't work out. Numbers, especially repeats and half-repeats can be a challenge with short rows. So, I charted out what I thought was supposed to happen. When next we met, I went over what I had figured out and she clarified a couple of things for me. After that, I could do some math and correct the pattern. At which point, she said, "I'm not a numbers person!" Exactly why we do this. She has wonderfully creative ideas and is a productive knitter. For her, the process would likely stop there because she's not comfortable with making sure the math is right when she writes out the pattern. With the Collaborative, her work can go further. As a matter of fact, I was inspired to design a coordinating hat. I can even picture mittens. Hopefully, other people will enjoy what she has designed and she'll end up making a little bit of money. If nothing else, it could reduce the cost of her knitting habit. Something we could all use in these tough economic times. But what I find is the compelling aspect is the way we augment each others' creativity and generate more as a group than we would as a set of individuals. It's a fabulous feeling to put your energies together and see the results. Everyone in the room feels good when it happens.
On other Circles fronts, Lyssa and Jen and Jackie are teaching classes and that is going well. I'm not able to extend the shop hours just yet, which is a bit disappointing, but I have to go with what I can. The Sunday Circle is bustling in it's new noon time slot. We still manage to have conversations that might go from where to get the best bagels in town to politics to deeply personal sharing of struggles and the welcome receipt of emotional support. The Sunday Circle continues to be the highlight of my week (other than my daughter, of course) and keeps me inspired to hang in there and do what I can to keep the Circles spirit alive.
My participation in Nanney Kennedy's work has been put on hold for a while. A big disappointment for me. It became clear within the first week that the other person already involved was not comfortable with an addition to the team. He and Nanney had had an agreement that they would work together on it for a year, and though we had discussed it with him and thought he saw the value of bringing me on board, he admitted later to feeling that he was a little blindsided. So, they are going to honor their original agreement and we will all talk about the potential for my participation when that agreement expires.