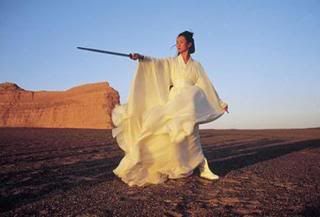 I've had a lot of design ideas where the pieces are long and flowing and might be worn in layers. A very long sleeveless piece over a fitted "undershirt" with flared sleeves, for instance. Two pieces on the needles are hinting at a design phase or something, but I hadn't really had a concrete sense of that until I saw the film "
Hero
" again. It's a kung fu art piece made in Hong Kong and starring Jet Li. I like the film quite a bit (though I have my philosophical/political dispute with it), but that's neither here nor there. It's the costumes that have me captured right now. They are based in the traditional
Han Fu
style from China. Well,
Emi Wada
, the costume designer, has taken some artistic license, I suspect, but I love what she produced.
Here's
another example.
Now, I'm not going to be knitting anything so fantastic. That's enough fabric to clothe a family of nine. And you can't tell from the overflowing outer garments of the women what the foundations of the style are. Especially when they're all in one color. But that unstructured, layered, flowing feel. That's what I've been yearning for.
It's the costume for Sky (the yellow and brown) that gives me the closest sense to what I was feeling coming out of my knitting. The costume is simple enough for me to begin to get at the roots of the style. In the film there are moments when I can clearly see the layers. I can just begin to see the schema. Just begin. But I can't find any good images showing the details of these costumes on the 'net. So, I thought I'd turn to researching the history and designs of Han Fu.
Now, I'm no researcher, but try finding information on Han Fu. Apparently, it's a politicized topic in China. Now I'll refrain from my own critiques of Chinese cultural and political history and simply focus on the facts - which I can't find - about Han Fu. Apparently, even though the Han Chinese make up the majority of China's very ethnically mixed population, their traditional clothing fell out of favor in some Dynasty or another and was all but forgotten. We're talking about the predecessor to the Kimono and many other Asian styles of clothing. Anyway, Manchurian style became the dictated de rigeur - because emperors used to dictate what style and colors everybody could wear based on their social position. There is now a small movement to revive this lost style, but there are scant records on the details. Perhaps there are resources in China, but when I search, all the references are other people looking for the same info I seek with responses that say, "don't know where you'd find that." So, people are winging it. Which is what I will do, since I was only going to use it as a reference point, not a strict recipe, anyway.
But I had hoped to find a recipe. I like to know the rules and make informed decisions about breaking them. Also, I might learn something intriguing about garment construction or dimensions and proportions. Well, I'll have to do with what I can find.
What I know so far: There are layers. Usually 3, but it can be more. The bottom layer is a bit more fitted than the others. The sleeve openings are wide to allow for elbow bending without the arm placing any stress on the fabric. This led to trends of exaggerated sleeves that draped to the ground, at times. The only closures were belts at the waist. You always cross the left over the right. Each layer was usually one piece, but sometimes there could be a bodice and skirt that were sewn together. Pants were a separate layer. The inner layer was thin and layers got thicker as you added them on. (Usually because you were adding for warmth.)
That's all I have for now. Where to begin.......
Oh, with some
lace weight alpaca
from Briar Rose. Yes..... Knitting forever..... Yes......